Pure Sound: Acts of New Noise (Euphonium Records - 2008)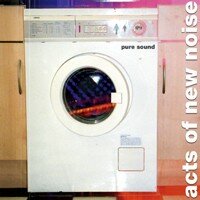 Sorti d'A Witness, le bassiste Vince Hunt créa Pure Sound, projet lui permettant d'expérimenter davantage au point de décevoir un peu – sur un premier album (Yukon), notamment – avant de mettre la main sur Acts of New Noise.
Là, Pure Sound soumet l'auditeur à une série de collages hallucinée augmentée d'interventions insistantes sur piano ou guitare, d'enregistrements de voix souvent maltraitées et du bruit de machines abrutissantes. Et lorsqu'une chanson éclot, c'est pour faire œuvre d'ironie – voix de Lou Reed appliquée à l'univers de Robert Wyatt.
Sur Acts of New Noise, se mêlent alors pop déglinguée et musique concrète, ambient indélicate et field recordings devenus prétextes à constructions hétérodoxes. Le paysage, changeant, augmente encore le charme des prouesses.

Pure Sound, Bloody Bastard Out Drinking. Courtesy of Euphonium.
CD: 01/ My Wife Doesn't Understand Me 02/ Moody Bastard Out Drinking 03/ Dialect Poetry 04/ The Pull Out from Hong Kong 05/ Give Me The Last Twelve Years Back 06/ Titanic 07/ Love Your Pheromones (Be My Slave) 08/ Take the Poor Side Express 09/ The Pat Jennings Tapes
Pure Sound - Acts of New Noise - 2008 - Euphonium Records.
Commentaires sur Pure Sound: Acts of New Noise (Euphonium Records - 2008)