Roy Nathanson : Nearness And You (Clean Feed, 2016)

Au Stone, entre le 2 et le 6 juin 2015, Roy Nathanson conviait ses amis en dialogue profond, cherchait et trouvait proximité et écoute, s'amourachait à cinq reprises d'une Nearness of You qu'il ne voyait que tendre et lumineuse.

La plupart du temps en duo, rarement en trio, il variait les angles, exposait son alto serpentin aux délices de l'instant. Le baryton chuchotait à l'oreille de Marc Ribot avant de crépiter de toutes ses clés. L'alto s'époumonait face au placide trombone de Curtis Fowkles. Ce même alto faisait jeu égal avec le piano du grand Chico O'Farrill. Son soprano papillonnait autour du clavier d'Anthony Coleman avant d'effectuer avec celui-ci un très convaincant numéro de derviche tourneur. Et si Nathanson, devenu pianiste le temps de quelques minutes, se raidissait, c'était pour mieux border Ida Lupino (Carla Bley) de sa tendresse rentrée avant de s'initier aux denses arabesques de dame Melford. Au Stone, entre le 2 et le 6 juin, Roy Nathanson trouvait la route de l'intime pour ne jamais la quitter.


Roy Nathanson : Nearness and You
Clean Feed / Orkhêstra International
Enregistrement : 2-6 juin 2015. Edition : 2016.
CD : 01/ The Nearness of You 02/ The Low Daze 03/ Indian Club 04/ What's Left 05/ The Nearness of Ewes 06/ The Nearness of You 07/ The Nearness of Jews 08/ What? Shoes? 09/ Ludmilla's Lament 10/ Ida Lupino 11/ An Other's Landscape 12/ And Then Some 13/ A Surprisingly Pastoral Moment 14/ The Nearness of You Too
Luc Bouquet © Le son du grisli
Lawrence D. Butch Morris : Verona (Nu Bop, 2015)
En 1994 et 1995, Lawrence D. Butch Morris poursuivait (et précisait à la fois) son œuvre de « conduction » – pour bien cerner le concept, une visite s'impose ici – au Teatro Romano de Vérone. Ce sont en conséquence deux conductions sur autant de disques : sur le premier, la quarante-troisième ; sur le second, la quarante-sixième. Bras, une dernière étreinte !

Si ce n'est dans les formations qui les interprètent (J.A. Deane au trombone et à l'électronique, Myra Melford au piano, Zeena Parkins à la harpe et Lê Quan Ninh aux percussions), l'une et l'autre ont des points communs. Ainsi, leur allure générale répond-elle à l'inspiration d'un chef d'orchestre en devoir d'imbriquer des modules différents et nombreux plus encore : lectures collectives, conversations en plus petits comités et solos, dessinent les contours d'une musique insaisissable puisqu'avide toujours d'autres propositions.

Aux déferlantes de cordes (les violoncelles de Martin Schütz et Martine Altenburger, notamment, sur le premier disque) et de percussions (Lê Quan à chaque fois), les instruments à vent (ici le hautbois de Mario Arcari et le trombone de Deane, là la clarinette basse de Francesco Bearzatti ou le saxophone alto de Rizzardo Piazzi) opposent des motifs courts qu'ils feront souvent tourner plusieurs fois. Aux progressions grippées des pianos (Melford et Riccardo Fassi ou Riccardo Massari, selon l'enregistrement) et du vibraphone (Bryan Carrot), la harpe pourra donner une touche impressionniste et les percussions imposer un équilibre à la Monk…

On imagine alors de Morris les gestes soit précis soit larges, autrement dit : directionnels ou sibyllins, qui commandent ici une séquence troublante aux airs de collage minutieusement élaboré (plusieurs fois, sur le premier disque) et là une rencontre plus convenue (la conclusion romantique dont se chargent hautbois et piano, sur le premier disque encore, ou cet échange piano / guitare – celle de Bill Horvitz – qui alourdit quelques secondes du second). Mais sur la durée de ces deux conductions, les écarts sont rares, qui éloignent Butch Morris de l'objectif qu'il s'était fixé : sculpter sur l'instant le chant d'un bel ensemble.



Lawrence D. ''Butch'' Morris : Verona. Conduction No. 43 – The Cloth (1994) / Conduction No. 46 – Verona Skyscraper (1995) (Nu Bop / Orkhêstra International)
Enregistrement : 26 juin 1994 & 27 juin 1995. Edition : 2011. Réédition : 2015.
2 CD : CD1 : 01/ Conduction No. 43 – CD2 : Conduction No. 46
Guillaume Belhomme © Le son du grisli
Eric Dolphy : Strenght with Unity (1964)

One of the least known of Dolphy's many works is Strength with Unity. Never issued commercially, this recording from the 1964 Once Festival in Ann Arbor is performed by Dolphy on alto, with the Bob James Trio (James on piano, Ron Brooks on bass, and Bob Pozar on drums) and a brass ensemble rehearsed by University of Michigan professor Louis Stout. Dolphy may have arranged it for 8 french horns, echoing his brass-heavy arranging for Africa Brass and the concert with the University of Illinois band.

This is a 10 minute long performance featuring a loping A theme in 5/4 and a beautiful bridge in 3/4, with swooping horn fills like those in Africa. Graham Connah noted that the tune is reminiscent of In the Blues from Copenhagen in September 1961, over an Eb diminished with a major 7th chord here as opposed to F# minor in In the Blues. A few weeks before this performance, Dolphy played some similar phrases with the New York Philharmonic in a very brief solo.

The introduction uses smeared harmonies by the brass followed by Dolphy, ending in the lower register to set the somewhat ominous tone. One interpretation of the composition, in terms of the title, is that the A theme represents Strength and the bridge Unity. Dolphy's solo is accompanied by the brass heavily during the first chorus. He then plays passionately, racing headlong, with mainly Pozar's insistent backing. On the final chorus he uses a lengthy series of rapid short phrases, before the brass return with an interesting inversion of the theme, and James solos.

Dolphy's second solo is remarkable, a classic example of what he could do in terms of maintaining conventional technique while extending it greatly. He ends it at the bottom of his horn again, his time splitting tones slightly. The ending of this performance is weak, perhaps because it wasn't rehearsed.

I know of two other performances of this composition: at a concert organized by Marcello Piras and Stefano Zenni, featuring Gianluigi Trovesi on alto, with arrangements by Gunther Schuller, in 2000 in Pescara Italy ; and by Graham Connah and friends at a Dolphy tribute concert at Yoshi's in Oakland California in 2003. There may or may not have been a performance in 2008 at Merkin Hall by a band led by Russ Johnson, with Roy Nathanson, Myra Melford, George Schuller, and Brad Jones. I look forward to hearing this wonderful piece played many more times.


Eric Dolphy : Strenght with Unity
Enregistrement : 1964.
Alan Saul © Le son du grisli

D'Augusta, Georgie, l'ophtalmologue Alan Saul anime Outward Bound!, incontournable site internet pour qui s'intéresse à l'œuvre d'Eric Dolphy.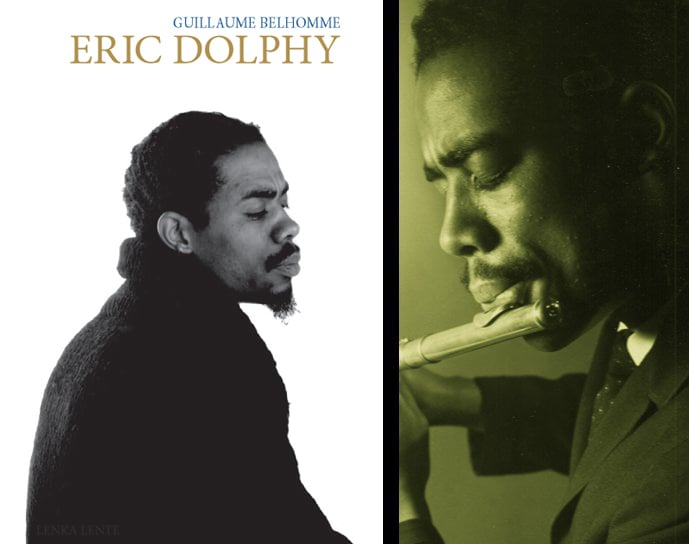 Commentaires sur