Brian Chase : Drums & Drones (Pogus, 2013)

J'ignore tout (complètement tout) des Yeah Yeah Yeahs, que je confonds sûrement d'ailleurs avec d'autres groupes pop de sa génération. Or il va me falloir faire maintenant une distinction puisque leur batteur, Brian Chase, a sorti un disque solo sur le label de l'excentrique Al Margolis, Pogus – sur le site duquel j'apprends d'ailleurs que Chase a expérimenté au côté d'Alan Licht, Anthony Coleman ou David First, entre autres.

Pour revoir mes à-priori, je passe donc le CD (un DVD avec des vidéos d'Ursula Scherrer et Erik Z a aussi été édité pour l'occasion) de « batterie et de drones ». Chase y mène une dizaine d'expériences dont un retour aux percussions indiennes qu'il sculpte comme des totems à coups de feedbacks et de résonateur, un découpage en règle d'une ligne-fréquence, des tours de prestidigitation qui transforment sa batterie en guimbarde, en râlements… S'il se montre plutôt étonnant, Chase convainc surtout lorsqu'il se passe de l'électricité, si ce n'est sur Snare Drush Drone où il fait du ressac de vagues en boucles un magnifique collier de perles plates et aigues.

J'avoue maintenant avoir promis, depuis mon écoute de Drums and Drones, que j'irai jeter une oreille sur le travail des Yeah Yeah Yeahs, avec une attention toute particulière pour son Chase de batteur…
EN ECOUTE >>> Snare Brush Drone >>> Drum Roll Drone

Brian Chase : Drums & Drones (Pogus / Metamkine)
CD (+ DVD) : 01/ Aum Drone 02/ Drone State of Mind, V.1 03/ Stick Shot Harmonies Drone 04/ Bass Drum Drone 05/ Melody Drum Drone 06/ Snare Brush Drone 07/ Cymbal Drone 08/ Feedback Drone 09/ Drone State of Mind, V.2 10/ Drum Roll Drone
Pierre Cécile © Le son du grisli
Interview with Richard Chartier @ le son du grisli

How, when and why, did you get involved with music? I was always interested in sound(s), even as a child. I loved the sound of refrigerators, air conditioners. I could often be found listening to machines, putting my ears right up to them. A strange child perhaps… The logical progression of that interest was electronic music and then experimental music in high school.

What is your first instrument? I think my first proper instrument was a Yamaha DX100 with the tiny keys. I learned to play music by ear listening to lots of synth pop hits in the 80s. There is a little solo recording of it used in the Pinkcourtesyphone track "here is something… that is nothing" on Foley Foley Folio (LINE_SEG01). A tribute to a clunky synth.

When did you begin to do the kind of music you're doing nowadays? Who were/are your first influences as a musician? I don't really consider myself a musician. I started working abstractly with sound in approximately 1990. You can actually here my work from that time on Untitled Tapes: 1991-1993. Big influences for me at that time were artists like Zoviet France, The Hafler Trio, Phauss, John Duncan, Throbbing Gristle, to name a few. Its when I started to listen to these more abstract experimental works that I realized I didn't have to create "songs" or "song structured work". It was very freeing.

If you don't consider yourself a musician, do you consider yourself a composer? A sound artist ? What would be the difference you could do between these denominations? I have been misquoted before saying I was a 'composer'. What I actually said was that I was a 'composer of elements'… or better yet a 'composer of sounds'… Composition in the broadest terms, I design and arrange sounds. (Which some would consider a description of 'Music') I am not trained musically, my work is certainly not academic in nature. I guess to me a musician is an artist that thinks in notes. Its all a very grey area now. All artists approach their work in a very personal, specific way.

I couldn't explain but I feel a 'european touch' in your music : would 'reductionism' be the point? I am not sure if its particularly European. I think its "considered." There is certainly a big minimalist tradition in the United States in composition and visual arts. I have been influenced by many forms of reductionism across history and art forms. I was the kid who liked the white crayon.

And What about Wandelweiser, are you aware of their work or of the works of german / british / french reductionism? If yes, are they inspiring? There is just too much to keep track of. I was not aware of the Wandelweiser label. I do know and enjoy the work of artists like AMM and Polwechsel (Trapist and Radian are 2 HUGE favorites of mine).


When and Why did you begin LINE? Documenting your work seems really important for you (you're releasing compilations of your works, for example). I began LINE in 2000. In 1999 was sending around my new work "Series" to Raster-Noton and Mille Plateaux. The response from both was "its too minimal" which I found amusing and frustrating. By the time Olaf Bender wrote again and said he understood the work better now and wanted to release "Series"… LINE had already begun. LINE was started by encouragement from Taylor Deupree. "If no one wants to release this work, release it yourself, better yet… start a label that focuses on this type of work." We ran it as a sub label of 12k. Taylor was doing all the business/inventory aspects and I was doing the design, selecting artists, etc. At the end of 2010 Taylor and I decided to separate the two entities. Since the beginning of 2011, LINE has been me doing everything. Its a one-man circus here.

How do you consider your own first releases you published on LINE? "Of Surfaces" (LINE_008) and "Two Locations" (LINE_013) are very dear to me. "Series" (LINE_001) is very abstract to me and I don't remember the time when I created it, and its not an easy listen.

Sometimes it seems you want to archive, as an archaeologist would do, your old recordings (by publishing compilations of your works, for example) & sometimes you use these old works to record new releases… "Other Materials" (3PARTICLES02), "Further Materials" (LINE_035), and "Subsequent Materials" (LINE_066) are collections of compilation and unreleased tracks. "Retrieval" (on ERS) and "Recurrence" (LINE_059) are the only two that really reformulate and recompose older works and bear very little resemblance to the original. Those two are reinvestigations, you could say. In rock you can use the same guitar again from song to song… so why not be able to re-use.. remodify… a sound that I created. "Archival 1991" (on CROUTON) and "Untitled Tapes:1991-1993" (3PARTICLES12) are both archival materials of my earliest recordings. I think its an important exercise to be able to look back and reflect on what you have done, how it colors what you do now, and learn from it. I am not the person I was at age 20.

You sometimes sounds "abstract", and sometimes not. Is it, here and there, a choice you make? What is the difference between the music of Richard Chartier and the music of Pinkcourtesyphone? I hate trying to describe my work, but there is a big difference with the Pinkcourtesyphone project. The work under my own name is very formalist, minimal, and quiet. Its focused on listening and spatiality. Sensation rather than emotion. Pinkcourtesyphone is a project that extends into more musical and dense territories, beats, vocals, lush emotions, and fuzzy nostalgia. It has subject matter, narrative, emotional content, sexuality and lots of coded language in its titles, references, and samples. Pinkcourtesyphone material is very freeing for me to create. It can even get noisy. The upcoming album "Description of Problem" (LINE_SEG03) is about obsession & revenge and features vocals by my friends William Basinski, AGF, Cosey Fanni Tutti, Kid Congo Powers, and Evelina Domnitch.

Is it easy to express yourself as a musician (or composer of sounds) with discrete sounds? Can music, like drawing, be an art of fading-out? I started working with sound when I was still actively painting. I would go from painting to sound to painting to sound, back and forth. I saw them both influencing my palette and composition. Eventually I realized I couldn't really create the spatiality on 2d surface that I was seeking. Painting became a language that wasn't suited for me anymore. I love a good erasure.
I've learn about the works of some musicians thanks to some of your collaborations (Curgenven, for example). How do you decide to start collaboration with such partners? In almost all cases I need to know the other artist as a person before I will work with them. The only exceptions are Nosei Sakata (who I never met… and still the two CDs as 0/r still baffle me) and my in the works collaboration with Justin K Broadrick (Godflesh, Final, Jesu) with Pinkcourtesyphone. The best collaborations are when you cannot tell who is doing what. Often I take on a different artistic voice when working alongside another artist. In the end, I always learn much from these interactions and different perspectives.

And what about the musicians you produce on LINE (Roden, Lopez, Novak, Whetham, Cluett…)? Do their music need to have a common point with yours to be released on LINE? Some of them work in different fields (noise, field recordings…). I think the releases on LINE are all very different and each artist has a distinctive "voice" and process. Overall there is a broad range of works. Mark Fell or Frank Bretschneider are rhythmic, AGF deals with voice, Doublends Vert is purely acoustic, Scott Cortez and Lovesliescrushing is all guitar. Chessmachine is insane and noisy. Certainly they don't have to be related to my work but there has to be a care to their work, it has to stand out and be something that absorbs me (and I hope, listeners as well).

What about field recordings? On these days, it seems any "ambient" musician has to deal with it… I like field recordings incorporated into work when it enhances the texture and space of piece. I do feel they can be overused / abused. Straight single field recordings on their own, no layering, no editing, can be very dull. France Jobin's work has always been made with field recordings, and what she does is quite beautiful and abstracted. Robert Curgenven has taken field recordings and really pushed them with his use of dub plates and room resonances. When I hear field recording pieces I not only want to feel transported.. I want to feel lost. I have my own basic rules about field recordings… no wind chimes, no whale songs, no basic bird songs (of course broke my bird rule once before)… there was one other, but i seem to have forgotten it… haha.

Novak is managing his own label too. Which are the record labels you're following? What are the last records you've listen to and loved? I absolutely love what Opal Tapes and PAN are doing. They both have very singular visions yet the works are so pan-genre. I love things that are hard to categorize. I always appreciate Touch and MEGO historically. I also love 100% Silk. A few of my current favorites: "Andøya" by Eric Holm, "Psychic 9-5 Club" by HTRK, "Sirene" by Robert Curgenven, "Warehouses" by Kane Ikin, "Ett" by Klara Lewis, "Tulpa" by Perfume Advert, "LA Spark" by Wrangler, "Ill Fares The Land" by Koenraad Ecker. And for dinnertime "Mi Senti" by Roisin Murphy.

Can you introduce me 'Subsequent Materials'? What is "the aim" of such a release? 'Subsequent Materials' is merely a collection of pieces that appeared on compilations, bonus tracks, unreleased works or versions from 2006-2012. Its 3 hours of sound works, not recommended in a single serving.

Richard Chartier, propos recueillis en juin 2014.
Pierre Cécile © Le son du grisli
Jonathan Finlayson & Sicilian Defense : Moment & the Message (PI, 2013)
La Sicilan Defense n'étant autre qu'une tactique de jeu d'échecs, le contrat est on ne peut plus clair pour Jonathan Finlayson et ses amis (Miles Okazaki, David Virelles, Keith Witty, Damion Reid) : stratégie(s) toute(s) !
La complexité si bien cultivée par Steve Coleman se retrouve ici, à quelques détails près, cloitrée dans la musique anguleuse du trompettiste. Problème : pour le chroniqueur qui ne voit – et n'entend – qu'impasse et cul-de-sac dans le M'Base Collective, le jugement risque d'être hâtif et sans appel. Et s'il veut bien reconnaître à Sicilian Defense quelques belles vertus (contrepoints soutenus, dialogue sur le vif ou à distance entre trompette et guitare), le chroniqueur rechigne à évoquer le cousinage d'un JS Bach ou d'un Henry Threadgill (deux stratèges aux idées qui sonnent) qu'ont semblé percevoir quelques-uns de ses confrères.

Jonathan Finlayson & Sicilian Defense : Moment & the Message (PI Recording / Orkhêstra International)
Enregistrement : 2012. Edition : 2013.
CD : 01/ Circus 02/ Lo Haze 03/ Ruy Lopez 04/ Carthage 05/ Tensegrity 06/ Le bas-fond 07/ Tyre 08/ Fives and Pennies 09/ Scaean Gates
Luc Bouquet © Le son du grisli
Baczkowski, Corsano, Kelley, Nace : Live at Spectacle (Open Mouth) / Orcutt, Corsano : The Raw and The Cooked (Palilalia)

Si Steve Baczkowski, Chris Corsano, Greg Kelley et Bill Nace se sont déjà donnés en spectacle ensemble (en duos et trios – le saxophoniste, le trompettiste et le guitariste ayant tous trois enregistré au moins une fois avec la paire Flaherty / Corsano), à quatre, leur association tient de l'événement…

Car du quartette qu'ils forment, les improvisateurs hyperactifs font, et de quelles manières, un véritable orchestre. Aux premiers coups défaits du batteur répondent ainsi les atermoiements de rigueur : entre expression libre et contrainte forcée, vobulations et bruissements se rapprochent pour bientôt faire éclats et étincelles. Sous les ors de deux ménages (Baczkowski et Kelley aux vents amalgamés, Nace et Corsano aux nappes en mouvement), la convulsion bruitiste compose sur une palette de gris et de noirs, entête sans exigences mais jusqu'à épuisement. Seul bémol : obligation de suivre Bill Nace à la trace, qui ne vend le disque en question (180 exemplaires) que les soirs de concert.


Steve Baczkowski, Chris Corsano, Greg Kelley, Bill Nace : Live at Spectacle (Open Mouth)
Edition : 2013.
LP : A/ - B/ -
Guillaume Belhomme © Le son du grisli


Douze extraits de concerts datés d'août et septembre 2012 font The Raw and The Cooked, vinyle d'une demi-heure sur lequel Bill Orcutt retourne à la guitare électrique auprès de Chris Corsano. Haletantes pour être frappées du sceau de l'urgence, les miniatures regorgent d'insistances (aigus arrachés aux cordes, emportements diluviens, cris expiatoires…) qui les nourrissent au point de les changer : les voici maintenant chevauchées fantastiques, expiatoires.


Chris Corsano, Bill Orcutt : The Raw and The Cooked (Palilalia)
Enregistrement : 2012. Edition : 2013.
LP : A/ 01-05 B/ 06-12
Guillaume Belhomme © Le son du grisli
Osvaldo Coluccino : Oltreorme (Another Timbre, 2013)
Quelqu'un s'en serait-il rendu compte du plagiat ? Si j'avais écrit d'Oltreorme ce qui avait été écrit d'Atto ? Je copie & je colle, Héctor, pour dire à mon tour qu'Osvaldo Coluccino ne joue d'objets comme personne. D'ailleurs, il ne joue pas. Non, il examine, secoue, voit ce que ça donne, cherche, trouve ou ne trouve pas, creuse ou abandonne…

J'aurais aimé dire aussi que nous ne devons pas chercher quel est l'objet, qu'il faut laisser faire l'imagination qui trotte et qui galope, le disque qui invite à l'imagination… Mais Atto n'est pas Oltreorme, dont le titre est un néologisme qui nous lance sur la piste d' « outre-empreintes ». Plus que sur son prédécesseur, les objets questionnent le silence. Plus que sur son prédécesseur, Coluccino réinvente la musique concrète en la rendant élusive. Même dans le concret, il est important de se distinguer. Et Osvaldo Coluccino a su le faire.


Osvaldo Coluccino : Oltreorme (Another Timbre)
Enregistrement : 2012. Edition : 2013.
CD : 01-05/ Oltrorme 1-5
Pierre Cécile © Le son du grisli
Made To Break : Provoke (Clean Feed, 2013) / Resonance : What Country Is This? (Not Two, 2012)
Dans le texte imprimé à l'intérieur de Provoke, Ken Vandermark explique les origines de son nouveau (2011) projet, Made To Break : méthodes de composition développées au sein de FME et The Frame Quartet – pour plus de précision : influence de Nate McBride, est-il écrit – associé à un goût pour le funk qu'avait déjà révélé le souffleur en Spaceways Inc. ou Powerhouse Sound.

Enregistré à l'occasion des concerts organisés à Lisbonne pour le dixième anniversaire de la maison Clean Feed, Provoke expose des patchworks aux pièces disparates : la présence de Devin Hoff n'étant pas celle de McBride, il arrive au groupe de pâtir d'une rusticité contre laquelle l'électronique de Christof Kurrzmann, pourtant astucieuse, ne peut rien. Alors, le saxophone se contente, à sa façon, de rebondir sous les coups que Tim Daisy porte à sa batterie.

Mais au mitan – et pour un tiers de concert quand même –, l'harmonie point. Sur une boucle lente dont l'allure entraîne la clarinette basse, Hoff est invité à plus de discrétion et voici le funk étouffé. La musique gagne en envergure et son atmosphère est maintenant inquiète et pénétrante. Malheureusement, de passage seulement ; on ne doute cependant pas que Made to Break puisse mieux faire…


Made To Break : Provoke (Clean Feed / Orkhêstra International)
Enregistrement : 17 & 19 novembre 2011. Edition : 2013.
CD : 01/ Further (For John Cage) 02/ Presentation (For Buckminster Fuller) 03/ Of The Facts (For Marshall McLuhan)
Guillaume Belhomme © Le son du grisli


Un peu plus tôt en 2011 Vandermark emmenait une autre fois Resonance. Enregistré à Chicago – et pour la première fois aux Etats-Unis –, l'orchestre évoque sur What Country Is This? le rapport de son meneur… à la Pologne. Sur la ligne de front, Vandermark, Rempis, Trzaska, Zimpel, Holmlander, Broo et Swell (dont le trombone à contre-courant n'est pas pour rien dans la réussite de ce disque) passent d'unisson amusés en solos intrépides avec, conjuguées, la force de Brötzmann et la délicatesse de Giuffre. Baroque.

Resonance : What Country Is This? (Not Two)
Enregistrement : 7 mars 2011. Edition : 2012.
Cd : 01/ Fabric Monument (for Czeslaw Milosz) 02/ Acoustic Fence (for Witold Lutoslawski) 03/ Open Window Theory (for Fred Anderson)
Guillaume Belhomme © Le son du grisli
Michel Arcens : John Coltrane (Alter Ego, 2012)

Oublions John Coltrane. Oublions la philosophie. Mais n'oublions pas le jazz. N'oublions pas la vie. N'oublions pas ce qui fait la substance du jazz, ce sur quoi il naît. Ce sur quoi on le condamne d'emblée. N'oublions pas que le jazz n'est qu'infamie (saleté, coït, résidu de capote et autres noms d'oiseaux) pour ses premiers rapporteurs. Pour l'auteur, le jazz est fondamentalement unique et scandaleux. Il est l'expression de l'étrange. L'expression d'une musique refusant le calcul. Utopie si on la considère à la lumière de ce qu'est devenu le jazz aujourd'hui.
Le grand mérite de Michel Arcens est de s'amuser des périphéries et en même temps de rappeler que la philosophie appartient à tout le monde. Loin d'une déconstruction des concepts, l'auteur interroge la spiritualité de Coltrane, n'en fait pas une messe mais une sorte de présent absolu. Arcens vise juste quand il écrit que Coltarne n'a qu'une prétention : « offrir cette absolue présence à tous ceux qui veulent l'entendre et vibrer un instant avec elle. Son seul objectif par rapports à ses auditeurs, à son public, par rapport aux autres, c'est peut-être de les rappeler à eux-mêmes, de les éveiller, des les réveiller ».
Parce qu'elle est une quête inaboutie et toujours recommencée, la musique de Coltrane est une affirmation totale souligne Arcens. Qu'ajouter de plus ici ?

Michel Arcens : John Coltrane. La musique sans raison (Alter Ego)
Edition : 2012.
Livre
Luc Bouquet © Le son du grisli


Ils se sont mis à cinq (Lewis Porter, Chris DeVito, Yasuhiro Fujioka, Wolf Schmaler, David Wild) pour nous pondre l'ouvrage ultime sur le géant Trane. Discographie réactualisée et de très peu d'erreurs, chapitres nous permettant de suivre le saxophoniste pas à pas, de clubs en festivals tout au long de sa carrière, l'ouvrage frise parfois le fétichisme de par son pointillisme absurde : est-il bien utile, par exemple, de savoir que Coltrane s'est régalé d'une omelette dans un restaurant japonais après son concert parisien du 28 juillet 1965 ? Une bible néanmoins pour tout Coltranophile qui se respecte.

Lewis Porter (ed.), Chris DeVito, Yasuhiro Fujioka, Wolf Schmaler, David Wild : The John Coltrane Reference (Routledge)
Edition : 2007.
Livre
Luc Bouquet © Le son du grisli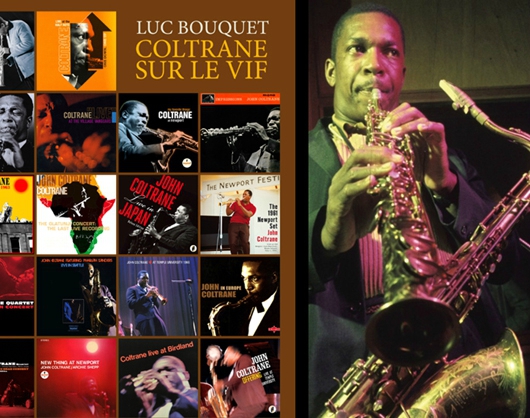 Richard Pinhas : Desolation Row (Cuneiform, 2013)

La musique de Richard Pinhas est un monstre à la gueule béante dans laquelle on saute de bon cœur parce qu'on sait qu'une fois passée la gorge on est sûr de tomber sur des trucs de toutes les couleurs, des guitares qui saturent et des rythmes en pamoison qui profitent de la première qualité qu'a Pinhas : celle d'oser !
Oser par exemple combiner le fuzz et le chorus sur des rythmes de mini synthés, réverbérer les solos pour faire croire qu'il a enregistré au (zabriskie) point le plus enfoui de la Death Valley, résumer toute l'histoire du New Age dans un bouillon sonore apocalyptique ou exploser celle du psychédélisme dans un arpège d'un goût... douteux. Avec les pédales grégaires, les electronics et les beats usurpés des invités Lasse Marhaug, Oren Ambarchi, Noël Akchoté, Duncan Nilsson, Eric Borelva et Etienne Jaumet, le guitariste laboure une terre de contrastes dont South nous offre un beau panorama (le plus intéressant des six que contient Desolation Row, alors qu'il est (justement parce qu'il est ?) le plus monotone).
A force d'être chamboulé, maltraité, arrive le moment où on se rebiffe. Et voilà que le monstre à gueule béante nous recrache à terre. Encore sonné et tout gluant, on se met à sourire, pas peu fier de l'expérience mais pas mécontent non plus d'en être ressorti. Bizarre ?!?
EN ECOUTE >>> Circle
Richard Pinhas : Desolation Row (Cuneiform / Orkhêstra International)
Edition : 2013.
CD : 01/ North 02/ Square 03/ South 04/ Moog 05/ Circle 06/ Drone 1
Pierre Cécile © Le son du grisli
Sam Pettigrew : Domestic Smear (Avant Whatever, 2012)

Domestic Smear est un enregistrement solo pas comme les autres où la contrebasse de l'Australien Sam Pettigrew doit beaucoup lutter contre d'autres instruments, ou même seulement des ustensiles, appelés en renfort (vibreurs, plastics, metals, hearing devices, ipod).

Truly, Madly, Deeply, la contrebasse prend des coups mais tient le cap. Son encéphalogramme est non pas plat mais plane, et encore… puisqu'il faut compter sur l'archet qui le façonne de mille manières (drones, ronronnements, raclements, harmoniques, larsens…). Avec cet air qu'il a de perdre la face, l'instrument de Pettigrew trouve un supplément d'âme dans le chaos et les soubresauts. Domestic Smear est un très bel et très inventif exercice. Un enregistrement solo pas comme les autres, disait-on, qui aurait certainement mérité d'être édité à plus de cent copies.

Sam Pettigrew : Domestic Smear (Avant Whatever)
Edition : 2012.
CD : 01/ Truly 02/ Madly 03/ Deeply
Héctor Cabrero @ Le son du grisli
John Butcher, Tony Buck : Plume (Unsounds, 2013) / Magda Mayas, Christine Abdelnour : Myriad (Unsounds, 2012)

En Plume s'agitent deux trios qui réunirent – en concerts donnés à Londres en 2007 et 2011 – la paire John Butcher / Tony Buck et Burckhard Stangl ou Magda Mayas.
Avec le premier – qui tiraille sa guitare jusqu'à bientôt l'interroger du poing –, l'improvisation joue de boucles qu'emporteront les aigus du soprano et les turbulences rebondies de toms-roulette. L'élucubration a du ressort, auquel un ampli sur le retour donnera d'autres couleurs : rechignant à composer avec ce lot de tensions lâches, le trio imbrique des modules de recherches alertes qui, avec une morgue superbe, font fi de toute cohérence.
Associés à Mayas, Butcher et Buck accordent velours et sifflements avec un lot de cordes pincées. Le tambour bat ferme sur un court motif de piano, l'alto progresse par à-coups avant que les cordes prennent leurs distances quand vient, sous couvert de recherches, l'heure de fomenter l'attaque inévitable. Sans chercher forcément à se répondre, les séquences se succèdent alors et les tensions reviennent faire valoir leurs droits. Plus « facile », mais changeant.
John Butcher, Tony Buck : Plume (Unsounds)
Enregistrement : 2007 & 2011. Edition : 2013.
CD : 01/ Butcher, Stangl, Buck : Fiamme 02/ Butcher, Mayas, Buck : Vellum
Guillaume Belhomme © Le son du grisli


Enregistrées le 25 août 2011 au Festival Météo, Magda Mayas et Christine Abdelnour construisirent l'appeau Myriad : pris dans le piège de cordes chuintant ou buttant contre le mobile de cuivre dans lequel sifflent les quatre vents, les oiseaux de couverture chantent et charment avant de prendre feu : pas surprenantes, leurs couleurs sont jolies quand même.

Magda Mayas, Christine Abdelnour : Myriad (Unsounds)
Enregistrement : 25 août 2011. Edition : 2012.
CD : 01/ Hybrid 02/ Cynaide
Guillaume Belhomme © Le son du grisli
Commentaires sur