The Fonda/Stevens Group : Trio (Not Two, 2007)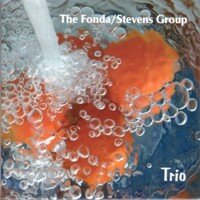 Ensemble à la physionomie changeante, The Fonda / Stevens group se faisait trio, en avril 2006, sur la scène de l'Alchemia de Cracovie.
Aux côtés du batteur Harvey Sorgen, le contrebassiste et le pianiste se partagent les titres d'un répertoire piquant, qui commande autant de déconstructions audacieuses que d'exercices de style parfaitement maîtrisés (swing incertain de The Search, orientalisme de Soon to Know, essai impressionniste de The Path).
Bien sûr, il arrive à Michael Jefry Stevens de trop en faire au piano, mais le trio parvient le plus souvent à mettre la main sur une entente rare, d'où partira l'imprécation folle de From The Source ou l'étrange danse qu'est Break Song. Et Joe Fonda, comme à son habitude, de rayonner d'un bout à l'autre d'un concert de plus.
CD: 01/ Soon to Know 02/ The Search 03/ Andrea 04/ From the Source 05/ The Path 06/ Break Song
The Fonda / Stevens Group - Trio - 2007 - Not Two.
Commentaires sur