Nauseef, Mori, Courvoisier, Quintus: Albert (Leo Records - 2006)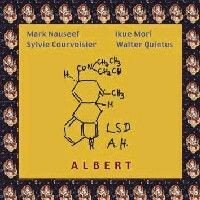 Quatre improvisateurs iconoclastes - Mark Nauseef (percussions), Sylvie Courvoisier (piano), Ikue Mori (ordinateur) et Walter Quintus (enregistrement et traitement sonore) - fêtant le 100ème anniversaire du chimiste suisse Albert Hofmann - longtemps intéressé aux effets du LSD selon méthode absorptive -, et voici Albert, précis d'hallucinations électroacoustiques.

Utilisant des enregistrements de la voix d'Hofmann, le groupe promène la figure du savant d'une jungle de percussions minimales (Creative Spirit of God) à une zone dépressionnaire soumise au bon vouloir de fulgurances diverses (électroniques, surtout, sur L.S.D. Came To Me, ou acoustiques sur Nothing Is Obvious), et d'un monde de métal réverbéré (The Chemistry of Ergot) à un champ mélodique incertain (la déflagration électronique de This Fundamental Truth).

Combinant habilement les interventions du piano et quelques drones oscillants (Psychedelic Induced Revelations, Mystery of The Matter), les divers élans acoustiques et les reverses instantanés dont ils sont le matériau (Creative Spirit of God), les musiciens enferment en 10 pilules leur apologie insouciante, conscients qu'on ne peut résister longtemps, comme le conclura Hofmann, au mystère de la matière.

Albert came to me. Albert must come to you.
CD: 01/ The Chemistry of Ergot 02/ Creative Spirit of God 03/ Psychedelic Induced Revelations 04/ L.S.D. Came To Me 05/ Albet's Alchemy 06/ Nothing Is Obvious 07/ Mystery of the Matter 08/ I Synthesized It 09/ L.S.D. Must Come To You 10/ This Fundamental Truth
Nauseef, Mori, Courvoisier, Quintus - Albert - 2006 - Leo Records. Distribution Orkhêstra International.