The Mighty Vitamins: Take-Out (Public Eyesore - 2008)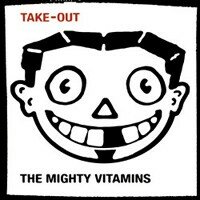 Sur les pas d'Alterations, évoquant parfois The Recyclers, The Mighty Vitamins (soit : Jerry Johnston, Jay Kreimer, Brad Krieger et Luke Polipnick) mélangent ici les genres : improvisations exaltées, développements las répétant ses mélodies, grands écarts entre expérimentations bruitistes et loisirs plus simplement récréatifs. Sans faire de terribles efforts de production, le groupe fabrique à coups de guitare, trompette, batterie, flûtes et toy piano, un Take-Out à l'intérêt aléatoire mais parfois enivrant.
CD: 01/ get a good job 02/ loops and spirals 03/ stoppages 04/ turbulence05/ celebration 06/ nakatani 07/ what a way to go 08/ marked 09/ talk that big talk 10/ 39 steps 11/ april 21
The Mighty Vitamins - Take Out - 2008 - Public Eyesore.