Why do you dance, Diego Chamy ?

If I take this question literally, I couldn't answer it, since I no longer dance — at least not in the way I did between 2006 and 2008, when these performances were filmed. If I think about the reasons that I had back then, the question remains tricky — it is easy now to look for reasons for an event that happened in the past, but it is never clear if such reasons were there so clearly at that moment.
I remember I started to dance at home, with my ex-girlfriend, who was a dancer (Macarena Cifuentes). When we were together we constantly made weird movements in front of each other, without any specific meaning or reason — movements that came out of happiness of being together. Then we incorporated these movements — and some poems — in our performances (back then I was playing percussion). Slowly, these movements and texts became more important than the music I was playing. I found myself dancing as an effect of pure happiness, holding also a secret hope to inspire happiness in others. That's a positive reason, but I guess there were negative ones too. For example, as a musician, I worked a lot with dancers and I was most of the times disappointed by their work. That was quite frustrating for me, so when I started to dance I developed all the movements and actions that I would have liked to see in professional dancers but hardly found in them. Sometimes they were not even reified as movements — it was more about a way of moving, a specific tone or quality — a manner. The dance had to be violently playful, unpretentious, light, and not uptight or pompous in any way. The movements had to come from an untrained body, which qualities are more subtle and difficult to recognize than what a dancers' disciplined body is normally able to express. And besides such expressive aspects, I wanted to pay special attention, when improvising, to formal aspects — something rare in dancers (and musicians) devoted to improvisation.
Another reason for dancing was that I wanted to try doing something more codified or formalized than the music I was playing. Although improvised music is already partially codified, working with body movements and spoken words put myself in a much more codified or recognizable universe. This had two immediate advantages for me: first, it brought me closer to the non-specialized audience, because they recognized my gestures easier than the sounds I was making, which can be quite alienating; and second, I felt that I could find more freedom and inspiration within a universe of recognizable gestures. This might sound paradoxical, but the practice has proved that it is so — at least for me. When I deal with codified or recognizable gestures I feel very amused by all the things that such codes imply. I can play with such implications, decide to respect them or not and abuse them to reach my own purposes. I learnt that, within these strong codes that immediately and involuntarily appear when one sees a body moving or listen to someone speaking, I can easier develop my own problems or tackle the subjects I'm interested in (like stupidity, repetitions, interruptions, free love, vulnerability, confusion, things taken out of context, etc.). In short, I danced because at that moment it was the most practical thing I could do.
Diego Chamy, September 28, 2011
Diego Chamy : The Intelligent Dancer (Absinth, 2011)

Pour avoir, peut-être, abandonné les percussions, Diego Chamy s'est mis à bouger autrement. En tenue légère souvent (survêtement ou caleçon et tee-shirt ou encore tee-shirt seulement), affublé d'une peau de coussin gonflable ou d'un ordinateur qui pourra diffuser un vieil air de variété, Chamy s'est mû. Il s'est mû, enfin, seul sinon en compagnie de Tamara Ben-Artzi ou Vered Nethe ou aux côtés d'anciens partenaires d'improvisation (parmi ceux-là, The Intelligent Dancer donne à voir et à entendre Axel Dörner, Robin Hayward, Christof Kurzmann et Nikolaus Gerszewski).
Face au public, les réactions de Chamy sont nombreuses et forcément inattendues : l'affrontement silencieux, la pose insistante, la danse contrefaite ou amorphe, le discours toujours empêché, la disparition jamais définitive… Parfois il y a contact avec l'autre, d'autres fois Chamy se retrouve seul : aux côtés de Dörner, il balbutie à n'en plus pouvoir devant l'indifférence d'une mécanique à pistons lorsque son corps ne s'interpose pas tout bonnement lorsqu'il s'agit de rivaliser de présence ; ailleurs, on le trouve empêtré dans un discours (bribes d'espagnol qui tournent en rond), dans l'impossibilité de se faire comprendre puisque, toujours, ses invectives peinent à dire.
Ne reste donc à Chamy que le geste, le retour au geste : le « danseur intelligent » qu'il est n'est pas plus provocateur (malgré les apparences) qu'en recherche constante et sérieuse de contacts divers – lorsqu'ils s'occupent de la musique, ses partenaires sont imperturbables. Alors il se déshabille pour faire fondre la glace, mais en réalité brûle les étapes et fait naître une gène qui, pour disparaître, devra attendre que débute une « véritable » danse. Enfin, Chamy s'y colle : sa danse est une poésie qui cherche ses gestes.
Diego Chamy : The Intelligent Dancer (Absinth / Metamkine)
Enregistrement : 2007-2008. Edition : 2011.
DVD : 01/ Tamara Ben-Artzi (dance) & Diego Chamy (dance) : NPAI Festival, Le Retail, France, 2007 02/ Diego Chamy solo (dance) : Play, Tel Aviv, 2007 03/ Axel Dörner (trumpet) & Diego Chamy (dance) : Labor Sonor, KuLe, Berlin, 2008 04/ Axel Dörner (trumpet) & Diego Chamy (dance) : Die Remise, Berlin, 2008 05/ Nikolaus Gerszewski (piano), Diego Chamy (dance) & Vered Nethe (stage) : Stralau 68, Berlin, 2007 06/ Nikolaus Gerszewski (acoustic guitar) & Diego Chamy (dance) : Miscelänea, Barcelona, 2008 07/ Robin Hayward (tuba) & Diego Chamy (dance) : Dock11, Berlin, 2008 08/ Christof Kurzmann (laptop, clarinet) & Diego Chamy (dance) : Una.Casa, Buenos Aires, 2008 +/ Bonus Features : Diego Chamy & Vered Nethe's complete video works 2007: To Ludger Orlok, The Cake, Vered What Are You Doing & Dory
Guillaume Belhomme © Le son du grisli
Diego Chamy, Axel Dörner : Super Axel Dörner (Absinth, 2010)
S'il ne fut pas à l'origine d'un What Matters to Ali inoubliable, on se souvient quand même avoir entendu déjà sur disque le percussionniste Diego Chamy et le trompettiste Axel Dörner. Sur Super Axel Dörner, on trouve aujourd'hui deux autres titres.
Dans lesquels s'engouffrent encore beaucoup de silences lorsque la parole n'est pas donnée à Chamy : récitation incantatoire puis excès de précaution sur une cymbale minuscule. En réponse, Dörner répète une note longue qui, à force de déplacer le projet initial de son partenaire, parvient à l'attirer à lui puis à le convaincre d'adopter le parti d'une abstraction fugitive. Le fidèle et son disciple se réfugient alors dans la matière sonore : discussion endurante à laquelle une réverbération légère fait cent propositions. Pour applaudir tout de suite à l'entente du duo, il aurait donc fallu publier ce disque-là en premier : puisque les enregistrements de Super Axel Dörner et de What Matters to Ali datent de la même époque.

Axel Dörner, Diego Chamy, Super Axel Dörner (extrait). Courtesy of Absinth
Diego Chamy, Axel Dörner : Super Axel Dörner (Absinth / Metamkine)
Enregistrement : 2006. Edition : 2010.
CD : 01/ April 20th, 2006 02/ September 5th, 2006
Guillaume Belhomme © Le son du grisli
Axel Dörner, Diego Chamy : What Matters to Ali (C3R Records, 2007)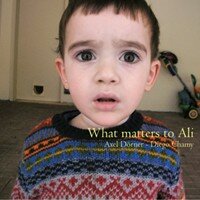 Seul, le trompettiste Axel Dörner – récemment convaincant au sein de Die Enttäuschung – ouvre What Matters to Ali, pièce unique d'une nouvelle collaboration avec le percussionniste Diego Chamy. Modifiant sans cesse la trajectoire de ses souffles, Dörner multiplie les attaques d'une pratique alambiquée et les déviances mélodiques à combiner aux imprécations sur toms, clochettes ou verres, de Chamy. Malgré quelques accès d'inspiration, l'enregistrement pêche, sur la longueur, par son manque d'intensité.
Axel Dörner, Diego Chamy : What Matters to Ali (C3R / Metamkine)
Enregistrement : 2006. Edition : 2007.
CD : 01/ What Matters to Ali
Guillaume Belhomme © le son du grisli
Commentaires sur