John Tchicai : A Yogi in Disguise
I met John Tchicai in April 2003 and couldn't possibly imagine the impact he would have on my music and life, until later that year we did two tours in Europe and the U.S., recording Big Chief Dreaming in Italy for Soul Note Records and Good Night Songs, a live 2-CD set on Boxholder. I learned so much about improvisation and composition during the ten years I worked with John. The first trio concert we played in Freiburg with bassist Vitold Rek, John decided backstage that the first tune would be an open improvisation. It was brilliant, as good as anything we had rehearsed. He had a truly amazing ear and his improvisations were a study in motivic abstraction, repetition and development. He was extremely sensitive to dynamics and tone and could play with more intensity at a low volume than anyone, varying his tone so subtly that your perceptions would be heightened. His sensitivity and pureness of sound were ethereal and so perfect in the moment, you just knew it would never happen again that way. His vibrato, a signature element of his style, was uniquely his own, yet reflected the traditions of Lester Young, Lee Konitz and Ben Webster. John had a sound rooted in the past with an ear that reached towards the future!

We collaborated on writing several compositions, and once John sent me an email with a single two-bar melody, asking me to compose the next two bars. He typed the letter names of the notes using arrows to indicate up or down motion and spaces for duration. We exchanged phrases that way four times and John titled it Long Distance Unity. Another composition, We Need Your Number was created while John was staying with me in Bergamo, Italy. He returned from a morning stroll in the old town and walked up the five flights of stairs to my apartment while whistling the melody line. He made me sit down immediately to write the chord changes. The melody on the bridge turned out to fit perfectly with the harmony on the "A" section of Monk's Well You Needn't.

John wasn't a man of many words, preferring to lead by example in the way he lived and played. I once asked him about the title of his composition A Yogi in Disguise based on Monk's Friday the 13th. He humbly replied, "The Yogi in Disguise - that's me, my real self, a yogi disguised as a musician." John was extremely disciplined, having studied yoga for years, and he practiced an hour every morning. Like a yogi, he made no compromises in his music and never played to please anyone – on purpose anyway. He said, "The challenge is that you have to keep at it. If you want to put your ideas through, you have to keep working at it and don't sell out and try to make ends meet, even if you don't earn as much as the pop stars."

It wasn't always easy to enter into Tchicai's musical world, but once you were there you didn't want to leave. His playing can manifest a stark beauty and his compositions are full of lyrical melodies and intricate rhythms, a reflection of his Afro-Danish roots, and they have very spiritual overtones, yet his spirituality is somehow transparent because John wanted the music to speak for itself. He said, "Music is a very important part of our spiritual life, and we have to take it seriously." At the same time, he had a great sense of humor and joyfulness about him.

I think it's fair to say that the mid 1960's free jazz movement in New York City would not have had the same impact without John Tchicai's spirit at the heart of the revolution. Tchicai co-founded the New York Contemporary Five and the Art Quartet, his playing with Albert Ayler and The New York Eye and Ear Control, Don Cherry, Roswell Rudd, Archie Shepp, Sun Ra and John Coltrane were essential to the spirit of the times. Shortly after he passed away on October 8th, I got together with a friend and we listened to Tchicai's music all night. John's solo on his composition, No. 6 from the 1964 Art Quartet recording on ESP is a brilliant example of motivic development and proof of his fully formed artistry before he played with John Coltrane on the 1965 historic free jazz recording, Ascension.

Contrary to John Tchicai's reputation as a leading proponent of free jazz, he wasn't a big supporter of "free blowing," and preferred freedom with form and structure. He worked hard on his compositions, rehearsed just as diligently, and expected us to play his music correctly. At the same time, being a master improviser, he never wanted us to feel too comfortable and he made certain that we avoided falling back on what we knew or thought would work so that our spontaneous instincts were always sharp. When we played a duo at the All About Jazz 1's and 2's Festival at Cornelia Street, we had rehearsed two sets and were on stage ready to play when John leaned over to me and whispered, "Let's make noise - you start!" The entire set was improvised. In contrast, the next time we played Cornelia St. in trio with Charlie Kohlhase, a critic called us "The Jimmy Giuffre Trio of free jazz." In a 2003 interview with the Boston Globe, John described the trio's approach; "Charlie, Garrison, and myself, we can improvise freely and create a good piece of music just on the spot. We've been at it so long that we know what it takes to make a harmonious piece of music from scratch or just from one idea. Whatever idea comes out first from one of the players can be developed."

In 2007 the trio expanded to a quintet with Cecil McBee and Billy Hart and we played a week-long gig at Birdland, the only time John played an entire week in a NY club. Lee Konitz came to hear John on the last evening and it was quite special to see the two of them in the dressing room. Lee was John's idol on alto sax. Before we went out on stage that night, John said to me, twice: "Lee Konitz is in the audience! Lee Konitz is in the audience!!" It was surreal moment for me.

Great music aspires to express the infinite through sound, and if anyone touched the infinite through music, it was John Tchicai. His music reached uncommon levels of spirituality, something he shared with John Coltrane and the basis for the group Ascension Unending, a sextet Tchicai formed in 2010 to explore the revolution in music following in Coltrane's footsteps. When we played the Vision Festival in 2011, John received a standing ovation from the audience at the end of his solo on The Queen of Ra, a very poignant moment for all of us and a fitting tribute to John.

It's been several weeks now since my good friend John Tchicai made his ultimate "Ascension". I dearly miss his soulful sound, graceful spirit and mischievous laugh. Thank you John.
Garrison Fewell © Le son du grisli
John Tchicai, Charlie Kohlhase, Garrison Fewell, Cecil McBee, Billy Hart : Tribal Ghost (NoBusiness, 2013)
Sur des compositions de Garrison Fewell – si ce n'est ce Llanto del Indo que John Tchicai adapta –, le trio de Good Night Songs se retrouvait les 9 et 10 février 2007, augmenté d'une section rythmique (sans piano) composée de Cecil McBee et Billy Hart.
Tchicai sur enceinte gauche, Kolhase sur enceinte droite ; entre les deux, la guitare de Fewell charge l'atmosphère du morceau-titre de codes divers (jazz, blues, soul) pour qu'elle puisse enfin rappeler celle des missives adressées jadis au Très-Haut – mais au Très-Haut quoi ? – par Alice Coltrane et Pharoah Sanders. Car c'est la marque d'une quête musicale que révèle Tribal Ghost, inquiète d'accorder toutes propositions musicales passées, présentes et à venir : sans cesse ramené au jazz par McBee et Hart, le trio peut échapper au genre sous influence africaine (Tchicai à la clarinette basse sur Dark Matter) ou latine (Llanto del Indio sur lequel les nerfs lâchent). Et quand il substitue l'improvisation à la partition, le quintette augmente son art de la mesure d'un supplément d'âme qui confond force et fragilité.

John Tchicai, Charlie Kohlhase, Garrison Fewell, Cecil McBee, Billy Hart
Dark Matter

John Tchicai, Charlie Kohlhase, Garrison Fewell, Cecil McBee, Billy Hart : Tribal Ghost (NoBusiness)
Enregistrement : 9 et 10 février 2007. Edition : 2013.
LP : A1/ Tribal Ghost A2/ The Queen of Ra – B1/ Dark Matter B2/ Llanto del Indio
Guillaume Belhomme © Le son du grisli
Tom Varner : Tom Varner Quartet (Soul Note, 1980)

Ce texte est extrait du troisième des quatre fanzines Free Fight. Retrouvez l'intégrale Free Fight dans le livre Free Fight. This Is Our (New) Thing publié par Camion Blanc.

La pochette de Tom Varner Quartet aurait pu être moins explicite : le meneur, qui signe ici son premier enregistrement, jouerait ainsi du cor d'harmonie. Au dos de la pochette, Varner rend hommage à Steve Lacy, musicien opiniâtre qui imposa sa sonorité propre à un autre instrument difficile que le cor. Au début des années 1990, Varner prendra d'ailleurs place dans l'octette du sopraniste – enregistrant avec lui à New York le disque Vespers.

Au cor d'harmonie (trompe de chasse améliorée afin qu'on l'entende en orchestre), les débuts de Tom Varner furent forcément classiques et, avouera l'intéressé, ennuyeux : c'est qu'au répertoire qu'il sert il préfère le jazz qu'il découvrit au son de Thelonious Monk, de Miles Davis et des références du catalogue Blue Note (Hank Mobley, Freddie Hubbard…). En parallèle, Varner entame donc des recherches pour plier son cuivre aux « lois » du genre avant d'en apprendre auprès de Julius Watkins, musicien qui fit entendre le son du cor dans les formations de Kenny Clarke, John Coltrane, Charles Mingus… ou encore sur le disque Thelonious Monk & Sonny Rollins. Varner fera ensuite ses classes au New England Conservatory de Boston, où il apprendra de Jaki Byard et George Russell, ce dernier l'intégrant à un sextette d'étudiants dans lequel le corniste jouera, comme ce sera souvent le cas, la partition du trombone.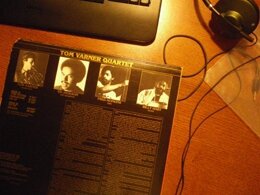 De Boston, Varner gagne New York où il exercera la profession de boulanger et enregistrera ce Tom Varner Quartet sur lequel l'accompagnent le saxophoniste Ed Jackson (altiste avec lequel il reprenait déjà à Boston des thèmes d'Ornette Coleman, Eric Dolphy ou Thelonious Monk, et qui intervient à la même époque sur le Film Noir de Ran Blake), le contrebassiste Fred Hopkins et le batteur Billy Hart. Là, le musicien défend ses vues de compositeur et, plus encore, celles de corniste appliqué au jazz, avec application et vélocité. Si, à cette époque, Varner écoute beaucoup Don Cherry, c'est encore Lacy (« The Otter », composition-puzzle aux modules répétitifs qui se chassent ou se répondent) et Monk (thème de « Radiator » et unisson des vents, qui rappelle l'association Watkins / Rouse) qu'il évoque ici. Plus loin, le quartette va voir au-delà du jazz : pour adresser sur « TV TV » un double clin d'œil au minimalisme de Steve Reich et de Philip Glass ; pour investir ensuite avec lenteur « Heaps », pièce singulière élaborée sur construction flottante que battront, après la déposition du thème, des vents en perdition.

Disque remarquable, Tom Varner Quartet sera remarqué ; et même bientôt suivi, sur Soul Note encore, de Motion/Stillness (même formation, si ce n'est qu'Ed Schuller y remplace Fred Hopkins). Pour ce qui est de Don Cherry, Varner lui consacrera un « tribute » en 2000 : Second Communion. Avant cela, il aura enregistré une poignée de disques sous son nom, sera intervenu dans Dead City Radio de William Burroughs ou dans des formations emmenées par George Gruntz, Franz Koglmann ou John Zorn, et aura soigné ses collaborations avec Burkhard Stangl et Werner Dafeldecker (en Ton-Art puis en compagnie de Ned Rothenberg et Max Nagl). Depuis 2005, Tom Varner vit à Seattle où il enseigne l'instrument au… Cornish College of the Arts.

Commentaires sur