Fire!, Oren Ambarchi : In Your Mouth - A Hand / Fire! Orchestra : Exit! (Rune Grammofon, 2012/2013)

L'amateur de crochets et d'anicroches trouvera là son compte : In the Mouth – A Hand est ce récit de coups portés par Fire! à un invité de marque : Oren Ambarchi.

Alors que la rencontre du trio et de Jim O'Rourke (Released! / Unreleased?) avait accouché de ballades expérimentales, mornes mais néanmoins inventives, In the Mouth – A Hand joue de basses et de rythmes soutenus qui enjoignent Gustafsson et Ambarchi à faire respectivement œuvre de cris rentrés et de cordes envisagées au poing – parfois le coup est maladroit, la gesticulation manque son but, alors le moulinet tourne à vide et l'exercice tient de l'entraînement longuet. Mais dans son ensemble, le disque se montre digne d'intérêt : faite de nœuds inextricables, la musique qu'il délivre trouve dans son endurance même la raison de son entêtement.


Fire!, Oren Ambarchi : In the Mouth – A Hand (Rune Grammofon)
Enregistrement : 28 octobre 2011. Edition : 2012.
CD : 01/ A Man Who Might Have Been Screaming 02/ And The Stories Will Flood Your Satisfaction (With Terror) 03/ He Wants To Sleep In A Dream (He Keeps In His Head) 04/ Possibly She Was One, Or Had Been One Before (Brew Dog)
Guillaume Belhomme © Le son du grisli 2013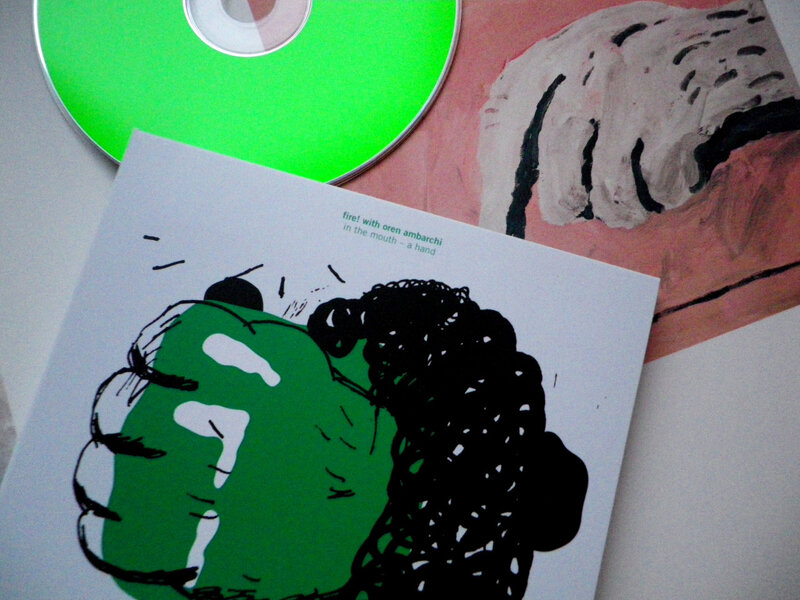 Au son de compositions de Gustafsson, Berthling et Werllin et sur des paroles d'Arnold de Boer, Fire! s'est fait grand orchestre. Enregistré le 13 janvier 2012, une trentaine de musiciens (dont Magnus Broo, Per-Ake Holmlander, David Stackenäs, Sten Sandell, Joel Grip ou Raymond Strid) s'y bousculaient de concert. Déclamant, Mariam Wallentin, Emil Swanangen et Sofia Jernberg, mènent la formation de ronde affolée en berceuse inquiète et de free folk en post-rock prog, obtiennent grâce après supplique : Fire!, stay with me.
Fire! Orchestra : Exit! (Rune Grammofon)
Enregistrement :13 janvier 2012. Edition : 2013.
CD : 01/ Exit! Part One 02/ Exit! Part Two
Guillaume Belhomme © Le son du grisli 2013

Commentaires sur Fire!, Oren Ambarchi : In Your Mouth - A Hand / Fire! Orchestra : Exit! (Rune Grammofon, 2012/2013)