Schweizer Holz Trio: Love Letters to The President (Intakt - 2009)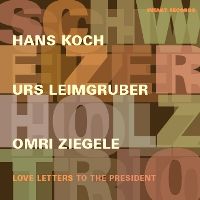 Le trio de saxophones (et clarinette) Schweizer Holz – que composent Urs Leimgruber (soprano et ténor), Hans Koch (soprano et clarinette basse) et Omri Ziegele (alto) – improvise sur Love Letters to The President sept doléances d'une fantaisie anxieuse.
A l'intérieur : une vindicte à la ponctuation singulière qui oppose les altercations de sifflements et de rauques (Letter I) à quelques preuves de mélodies plaidant en faveur des réconciliations : gradation de Koch à la clarinette basse mettant en valeur toute l'intensité du jeu de Leimgruber au ténor (Letter II). Parfois, le discours est précipité et les contrastes s'estompent : associations délirantes de Somehow Brighter Sky et notes décousues de Waiting for an Answer imposant au message le champ d'une abstraction salutaire, quand la voix de Ziegele le tire ici et là vers le bas. Pour un temps seulement, puisque l'accord trouvé par Leimbgruber et Koch troque chacun des mots facheux contre une phrase d'une justesse implacable (Couldn't Think of One Word).
CD: 01/ Letter I 02/ Letter II 03/ Letter III 04/ Rain Upon Your Heart 05/ Somehow Brighter Sky 06/ Waiting for an Answer 07/ Couldn't Think of One Word >>> Schweizer Holz Trio - Love Letters to The President - 2009 - Intakt. Distribution Orkhêstra International.
Commentaires sur Schweizer Holz Trio: Love Letters to The President (Intakt - 2009)