Memorize the Sky: In Former Times (Clean Feed - 2008)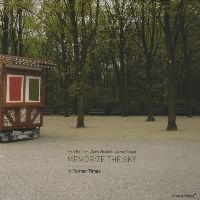 Une sirène grave charriée par quelques roulements, un archet grinçant pris de répétitions, et quelques drones plaqués sur la plainte d'un saxophone tremblant ouvrent In Former Times, nouvel enregistrement de Memorize the Sky – Matt Bauder (saxophones, clarinette), Zach Wallace (contrebasse) et Aaron Siegel (percussions).
L'atmosphère, fébrile, renoue avec la conclusion de Memorize the Sky et les puissants espoirs que celui-ci avait fait naître : de voir le trio soumis encore aux parasites et au mouvement incessant de bourdons qui provoqueraient autrement chacun de ses membres : pour qu'ils s'en sortent, de l'intérieur de l'instrument (Treat Me Like A Picture) ou au son d'une mélodie effleurée par la clarinette de Bauder (In Former Times), qui conclut une autre épreuve d'électroacoustique alerte.
CD: 01/ Did I Tell You ? 02/ The Sun Is Going Down ? 03/ I Am the Founder of This Place 04/ Treat Me Like A Picture 05/ In Former Times >>> Memorize the Sky - In Former Times - 2008 - Clean Feed. Distribution Orkhêstra International.
Memorize the Sky déjà sur grisli
Memorize the Sky (482 Music - 2007)
Commentaires sur Memorize the Sky: In Former Times (Clean Feed - 2008)