Abdelhaï Bennani: There Starts the Future (Ayler Records - 2008)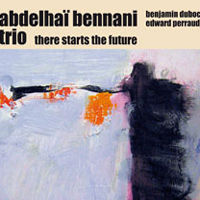 Saxophoniste ténor entendu souvent auprès d'Alan Silva, Abdelhaï Bennani improvisait en juin 2007 aux côtés de deux autres de ses partenaires réguliers – le contrebassiste Benjamin Duboc et le batteur Edward Perraud – There Starts the Future.
Deux grandes pièces, alors : In the Beginning Was The Light, improvisation intense additionnant ses couleurs par touches épaisses et menée de front en ouverture et fermeture, puis I Had a Dream, sur laquelle le saxophoniste geint davantage sur les coups secs de Perraud avant de faire un retour au grave pour mieux dialoguer sur contrastes avec l'archet de Duboc. Plus calme d'apparence, le second titre dévoile pourtant un lot d'espérances sourdes qui, une fois repérées, se font aussi saillantes qu'est implacable l'ensemble de la rencontre.
CD: 01/ In the Beginning was the Night 02/ I Had a Dream >>> Abdelhaï Bennani Trio - There Starts the Future - 2008 - Ayler Records. Distribution Orkhêstra International.
Commentaires sur Abdelhaï Bennani: There Starts the Future (Ayler Records - 2008)