Elliott Sharp, Scott Fields: Scharfefelder (Clean Feed - 2008)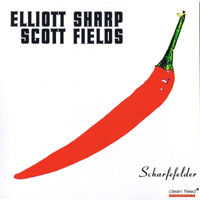 ... En compagnie de Scott Fields, Sharp improvise cette fois les titres de Scharfefelder. Sur guitares acoustiques, les deux hommes trouvent un terrain d'ententes à leurs interventions minuscules mais angoissées, recourent à un unisson faussaire avant d'insister ensemble sur des phrases individuelles écorchées. Pas toujours original, mais souvent alerte.
CD: 01/ branedane 02/ Between Octopus and Squid 03/ Big, Brutal, Cold Raindrops 04/ Minerali 05/ Giganotosaurus 06/ Shuffle Through the Restaurateur Gauntlet 07/ Doubula 08/ Put your Pennies in my Portuguese Cork hat 09/ Doubleviz 10/ Fresh Red Flea 11/ Freefall 12/ Fried Splash >>> Elliott Sharp, Scott Fields - Scharfefelder - 2008 - Clean Feed. Distribution Orkhêstra International.
Commentaires sur Elliott Sharp, Scott Fields: Scharfefelder (Clean Feed - 2008)