Alexander von Schlippenbach: Gold Is Where You Find It (Intakt - 2008)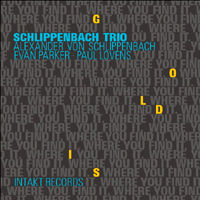 Suite des aventures du Schlippenbach Trio, Gold Is Where You Find It scelle l'entente et découvre au passage de nouvelles possibilités, offertes par quelques années d'efforts qui auront forgé la maîtrise.
A Baden-Baden, fin 2007, Schlippenbach, Evan Parker et Paul Lovens remirent donc l'ouvrage sur le métier, de progressions difficiles sur lesquelles s'entendre mieux qu'ailleurs (ZDWA) en ruades attendues mais toujours supérieures (Three in One). Différents, quelques morceaux d'abstraction conseillent aux musiciens l'installation inquiète d'une atmosphère à qui l'on refuse tout développement (K. SP), ou la mise en place lente d'une entente tripartite gagnée par la vitesse (Gold Is Where You Find It). Définitif, si les 35 ans du Schlippenbach Trio ne promettaient pas d'en prendre encore et de s'affiner.
CD: 01/ ZDWA 02/ Happy Flapping 03/ Amorpha 04/ Gold Is Where You Find It 05/ K. SP 06/ Monkey's Fist 07/ Lekko 08/ Cloudburst 09/ Three in One 10/ The Bells of St. K >>> Alexander von Schlippenbach - Gold Is Where You Find It - 2008 - Intakt Records. Distribution Orkhêstra International.
Commentaires sur Alexander von Schlippenbach: Gold Is Where You Find It (Intakt - 2008)