Brötzmann, Nilssen-Love, Gustafsson: The Fat is Gone (Smalltown Superjazz - 2007)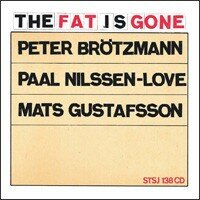 Lors de l'édition 2006 du Festival International de Jazz de Molde, Peter Brötzmann prouvait en compagnie de Mats Gustafsson et de Paal Nilssen-Love que tout le monde peut s'entendre sur un conflit de générations.
Les deux saxophonistes donnant d'abord dans les rauques d'instruments graves sur le rythme frénétique propulsé par Nilssen-Love, avant d'opter, dès l'ouverture de Colours in Action, pour un développement plus langoureux, soul déchue par les tentatives expérimentales d'une clarinette basse et d'un saxophone baryton. Evidemment, la tension gagne à nouveau l'ensemble, mais redescendra.
Plus déconstruit, The Fat is Gone imbrique ses conversations soutenues, tenté souvent par des silences qu'il abandonnera au profit d'un free jubilatoire aux accents de fête aylérienne. Démantibulées en guise de conclusion ; celle de Fat is Gone, instantané convaincant d'un free jazz du jour.
CD: 01/ Bullets Through Rain 02/ Colours in Action 03/ The Fat Is Gone
Peter Brötzmann, Paal Nilssen-Love, Mats Gustafsson - The Fat Is Gone - 2007 - Smalltown Superjazz. Distribution Differ-ant.
Commentaires sur Brötzmann, Nilssen-Love, Gustafsson: The Fat is Gone (Smalltown Superjazz - 2007)