The Hot 8 Brass Band: Rock With The Hot 8 (Tru Thoughts - 2007)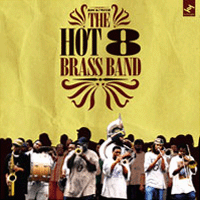 Depuis 1995, le Hot 8 Brass Band dispense sa musique de fanfare sur un ton léger, plus soucieux de présence et d'investissement que de justesse des cuivres. Flamboyant quand même, l'ensemble l'emporte par la manière qu'il a de tout investir avec le même panache : retour aux sources des orchestres de la Nouvelle-Orléans, rengaines répétitives, rap hybride, reprises amusées mais adroites de Marvin Gaye ou Snoop Dogg. D'un parti pris qui aurait pu tenir seulement de l'anecdote, l'ensemble construit ainsi un disque convaincant.

The Hot 8 Brass Band, We Are One (extrait). Courtesy of Tru Thoughts.
CD: 01/ What's My Name ? 02/ It's Real 03/ Fly Away 04/ I Got You 05/ Sexual Healing 06/ Jisten to Me 07/ We Are One 08/ Skeet Skeet 09/ Rastafunk 10/ E Flat Blues 11/ Skit31 12/ Love Don't Live Here 13/ Get Up
The Hot 8 Brass Band - Rock With The Hot 8 - 2007 - Tru Thoughts. Distribution La baleine.
Commentaires sur The Hot 8 Brass Band: Rock With The Hot 8 (Tru Thoughts - 2007)