Sun Ra: Springtime in Chicago (Leo Records - 2006)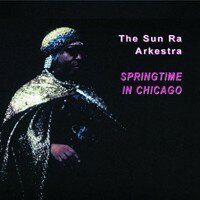 Publié dans la série "Golden Years of New Jazz" du label Leo Records, Springtime in Chicago revient sur un concert donné par L'Arkestra le 25 septembre 1978, à Chicago.

A la tête d'une quinzaine de musiciens, Sun Ra improvise d'abord une impression africaine et entêtante, avant de laisser June Tyson à l'interprétation a capella d'un Springtime in Chicago qui finira par disparaître sous le pandémonium défendu par la totalité des instruments à vent. Et l'ensemble d'évoluer à l'image de cette succession, au gré des tourmentes fomentées par le free d'un big band euphorique (Discipline 27, Next Stop Mars) et de ritournelles certes plus calmes, mais hallucinées.

Au nombre de celles-ci, quelques retours vers un swing des origines (du Big John' Special de Fletcher Anderson à King Porter Stomp), des refrains enthousiastes portés en groupe (Second Stop is Jupiter, Space is the Place, Enlightenment), ou d'autres combinaisons singulières de bop, rythm'n'blues et boogie (Somewhere Over The Rainbow, Yeah Man !).

Ici ou là, des interventions individuelles remarquables: invocations de l'orgue de Sun Ra sur The Shadow World, charges prodigieuses des saxophonistes John Gilmore et Marshall Allen (Calling Planet Earth) ou dissonances chastes des trompettistes Eddie Gale, Walter Miller et Michael Ray (Body and Soul, Yeah Man !).

Perturbé et insouciant, Sun Ra compte sur les surprises d'un chaos jubilatoire permis par la relativité des conséquences d'un tel voyage : concert foisonnant porté haut, simplement pour irradier plus intensément.
CD1: 01/ Untitled improvisation 02/ Springtime in Chicago 03/ Astro black 04/ The world is waiting for the sunrise 05/ Discipline 27 06/ The shadow world 07/ Yeah man! 08/ Queer notions - CD2: 01/ Big John's special 02/ Somewhere over the rainbow 03/ Lights on a satellite 04/ Body and soul 05/ King Porter stomp 06/ Second stop is Jupiter 07/ Space is the place 08/ Enlightenment 09/ Next stop Mars 10/ Calling Planet Earth
The Sun Ra Arkestra - Springtime in Chicago - 2006 - Leo Records. Distribution Orkhêstra International.
Commentaires sur Sun Ra: Springtime in Chicago (Leo Records - 2006)