Irène Schweizer: First Choice (Intakt Records - 2006)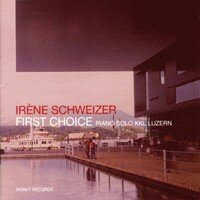 D'une soirée spéciale organisée en 2005 au KKL de Lucerne (concert solo d'Irène Schweizer et diffusion, plus tôt, d'un film lui étant consacré), First Choice vient grossir les rangs des nombreux enregistrements de la pianiste. Capable d'étonner encore.

A l'image de First Choice – premier morceau, sur lequel Schweizer convoque Debussy, Satie, Morton Feldman et Jerry Roll Morton – la pianiste navigue tout au long du concert entre ses amours pour le jazz et le contemporain. Ainsi, elle évoque Monk sur Into The Hall Of Fame, ou Mal Waldron sur l'intense Ballad Of The Sad Café, avant de sortir de son piano préparé une ode expérimentale allégée par l'utilisation de cymbales et de jouets made in China (Scratching at the KKL).

Revenue de ses expériences, voici Schweizer interprétant, sous tension, Oska T. de Monk, musicien dont l'influence se fait ressentir jusque sur Jungle Beats II, composition personnelle dédiée à Don Cherry. Elégante, Irène Schweizer aura ainsi bravé et remporté l'épreuve de la consécration.
CD: 01/ First Choice 02/ Into The Hall Of Fame 03/ The Ballad of The Sad Café 04/ Scratching at the KKL 05/ Oska T. 06/ Jungle Beats II
Irene Schweizer - First Choice - 2006 - Intakt Records. Distribution Orkhêstra International.
Commentaires sur Irène Schweizer: First Choice (Intakt Records - 2006)